The new series begins with Murder Visits A French Village. Its sequel will come out in March 2024.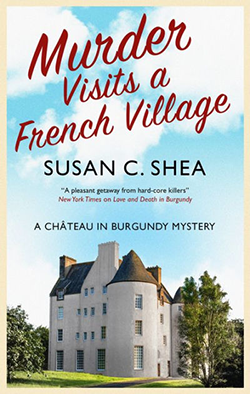 Ariel Shepard is devastated by the sudden loss of her husband, but nothing could have prepared her for inheriting the rundown French château they visited on their honeymoon four years ago. With finances tight she has no choice but to swap her Manhattan apartment and city lifestyle for a renovation project in a peaceful French village. But murder visits, and Ariel begins to suspect that her French village life will be anything but peaceful.
Bonus: Several of the much-loved characters from the first two French village mysteries pop up again in the new one because Katherine Goff, Pippa Hathaway, and nosy Madame Pomfort live in the village next to Ariel's, and become her first friends.
"…a sympathetic amateur sleuth… and the mystery is nicely framed by a view of expat life in France…"
—Booklist
"The quirky village residents make this an appealing series debut… recommended for fans of M.L. Longworth, Martin Walker, and Serena Kent"
—Library Journal
---
The prior two books set in Burgundy received high critical praise.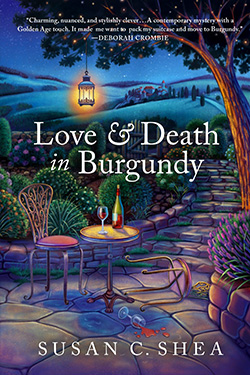 Love & Death in Burgundy
After three years of living in the small town of Reigny-sur-Canne, all Katherine Goff really wants is to be accepted by her neighbors into their little community. But as an American expat living in the proud region of Burgundy, that's no easy task.
When the elderly Frenchman who lives in the village chateau is found dead at the bottom of a staircase, the town is turned into a hot bed of gossip and suspicion, and Katherine suddenly finds herself drawn deeper and deeper into the small town's secrets. A motherless teenager, a malicious French widow, a brash music producer, and a would-be Agatha Christie are among those caught up in a storm that threatens to turn Katherine's quiet life upside down. As more and more of the villagers' secrets are brought to light, Katherine must try to figure out who, if anyone, in the town she can trust, and which one of her neighbors just might be a killer.
Amazon
Audible
Barnes & Noble
Book Passage
Kobo
"Shea launches a cozy series that richly details life in a small French village. The outlandish antics of the eccentric locals add to the humor. Suggest to fans of Rhys Bowen's early Evan Evans series for the humor, the characters, and the charming setting."
—Library Journal
"Charming, nuanced, and stylishly clever, Love & Death in Burgundy is a contemporary mystery with a Golden Age touch. It made me want to pack my suitcase and move to Burgundy, and I can't wait to see Katherine and her village again."
—Deborah Crombie, New York Times bestselling author of The Sound of Broken Glass
"I adore village mysteries and this one has the added bonus of being set in France, which Susan obviously knows well. A delicious concoction for Francophiles as well as cozy lovers."
—Rhys Bowen, New York Times bestselling author of the Royal Spyness Mysteries
"Premier Cru and French chateau visits out of your budget this summer? Take an armchair visit in Susan C. Shea's novel, Love & Death in Burgundy. Jaunt through flea markets, a murder, along with artistic expats in a lush country village and discover secrets."
—Cara Black, New York Times bestselling author of the Aimee Leduc Mystery Thriller Series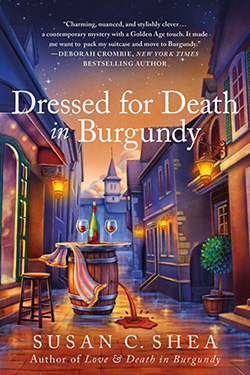 Dressed for Death in Burgundy
After finding herself mixed up in a murder investigation the previous Summer, Katherine Goff's life simply has not been the same. Her husband has been in the US recording a new album, the Burgundy region locals are finally starting to see her as a real neighbor, and Katherine has even started helping out with "tourist" excursions. It seems she's finally found her place in the small community of Reigny-sur-Canne.
But when Katherine stumbles across a body in the local museum during a tour, she finds herself caught up once again in a whirlwind of gossip and speculation. When the police zero in on her friend Pippa as a suspect, Pippa and Katherine team up to find the real killer and clear her name.
However, the more clues they discover, the more the real killer wants them off the trail. When Katherine and Pippa start receiving threats, they must decide what they are more afraid of—the police getting it wrong, or possibly becoming the killer's next targets.
Amazon
Audible
Barnes & Noble
Kobo
"A comedy of errors full of amusing characters, a fine feeling for life in small-town France, and a suitably twisty mystery."
—Kirkus
"Reading Susan Shea is like sipping your favorite wine out on the veranda of a luxury villa. This is the second in a wonderful traditional mystery series with characters you will grow love, mystery that will keep you guess, and such a strong sense of place, that you just might find yourself booking an immediate vacation to Burgundy by the time you complete the last chapter."
—BOLOBooks blog
"Not since my first visit to Louise Penny's Three Pines have I encountered a more beguiling fictional world than Susan Shea's Reigny-Sur-Canne. With an engaging cast, the rare realistic depiction of a good, modern marriage, a sideways look at a budding mystery-writer, and a real head-scratcher of a murder plot, Dressed for Death in Burgundy is a box of delights!"
—Catriona McPherson, Anthony and Agatha Award-winning author
"This leisurely paced cozy is rich in local color and art, and it includes well-drawn characters framed by Katherine's life as an expat in a provincial French village."
—Booklist
---
The popular, 3-book Dani O'Rourke series will be re-published in 2023.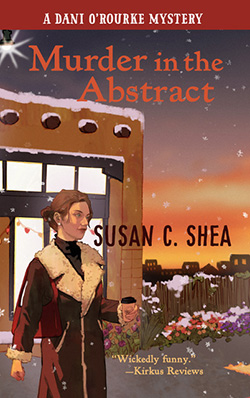 Murder in the Abstract
Danielle O'Rourke's gala evening at the Devor Museum ends in catastrophe when the body of a young artist plummets from her office window. The police label it murder and suspect Dani, the Museum's chief fundraiser.
Self-preservation and an insider's understanding of how money moves the art world drive her to investigate who might have a motive for murder. Dani's playboy ex-husband and a green-eyed cop complicate matters as her search moves through the fashionable worlds of San Francisco and Santa Fe.
"Dani O'Rourke is a wonderful addition to the roster of modern day amateur sleuths. Guided by Shea's razor-sharp talent for observation and keen wit, Dani shows us the world of mega million dollar museum donations as only an insider could do… a fascinating protagonist you'd like as a friend, smack dab in the not-so-pristine world of fine art and old money."
—Louise Ure, Shamus Award winner
"…A series to watch."
—Booklist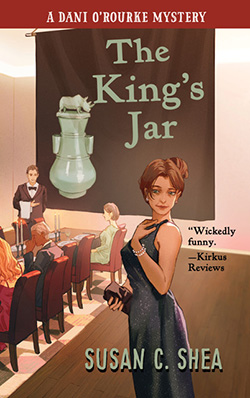 The King's Jar
Acquisition of the King's Jar, a priceless African artifact, is a major coup for San Francisco's prestigious Devor Museum of Art and Antiquities—and the gala celebration honoring its donors is a high-stakes affair. Dani O'Rourke, Devor's chief fundraiser, is a pro at dealing with wealthy patrons, demanding bosses, big egos, and museum-world politics. Murder, however, is way above her pay grade, and definitely beyond her comfort zone.
When the renowned archaeologist who authenticated the King's Jar turns up dead, and the invaluable relic vanishes, Dani suddenly finds herself trapped in a real-life game of Clue—with a gallery of glittering suspects, and a killer who's playing for keeps. But drumming up donations from society swells is a far cry from matching wits with homicidal thieves. And juggling the amorous advances of a police detective, a TV celebrity, and her own playboy ex-husband—while sparring with an African ambassador, an obsessed archaeologist-in-training, a billionaire and his trophy wife—certainly doesn't make it any easier to figure out who's lying…or keep anyone else from dying.
"Wickedly funny."
—Kirkus Reviews
"A layered, smart, surprising plot."
—Booklist
"Fresh, fast-paced, and great fun."
—Library Journal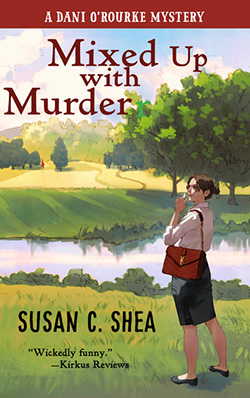 Mixed Up with Murder
Dani is flying east for what should be an easy and interesting diversion, a short consulting assignment to help a small New England college with a plentiful gift of money and art from an alum. But the donation comes with some strange terms, and she soon learns the donor is a powerful man hiding some alarming secrets. When the college's vice president drowns on a golf course, Dani finds herself in the center of a dangerous plot and, is once again, mixed up with murder.
"I love Dani O'Rourke! This engaging sleuth is savvy, witty, winning, and brave."
—Hank Phillippi Ryan, Agatha, Anthony, and Mary Higgins Clark Award-winning author
"Style and verve—and just the right amount of romance."
—Terry Shames, Macavity Award-winning author of the Samuel Craddock series